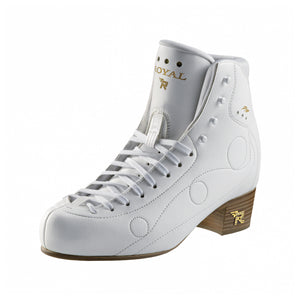 The Risport Royal Pro is an ice skating boot designed for mid-level competitive skaters. Its has a suitable level of support for axel and beginner double jumps.

Technical Features:
Risport degree of stiffness/support = 65. We recommend this boot for skaters who are landing axels and learning beginner double jumps. 
Boots are made from lightweight materials. 
Microfiber exterior - this material is very durable and therefore ensures performance over time. 
3D fabric lining - 

Risport has studied a new three-dimensional fabric with a high level of resilience and is therefore able to cushion blows without undergoing changes thanks to its thickness. Furthermore, this fabric ensures comfort without neglecting performance.

Leather heel and sole - the 

sole is composed of a 4 mm single layer of leather with leather heel, with an insert of ultra lightweight thermoplastic material to reduce weight.

Internal reinforcements around the entire foot.
Circular ventilation system.
Ultra padded cuff profile (around top of the boot).
Heat moldable.