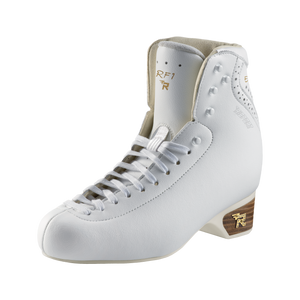 The Risport RF1 Exclusive is an elite level ice skating boot. Its has a suitable level of support for triple and quad jumps.

Technical Features:
Risport degree of stiffness/support = 90. This means that this boot is suitable for skaters performing triple and quad jumps. 
Ultra lightweight boots.

Thermoplastic sole - designed to reduce weight of the boot, reduce vibrations and increase the accuracy of blade mounting. 

Thermoplastic heel with leather insert - designed to further reduce the weight of the skate. 
Abrasion resistant microfiber exterior.
Microfiber lining with Aloe Vera treatment - made from durable material that is designed to increase the sensitivity of the foot, skate control and foot support. The Aloe Vera treatment provides beneficial antibacterial and anti-fungal properties. 
Internal reinforcements around the entire foot.
Ultra padded cuff profile (around top of the boot).
Circular ventilation system.
Heat moldable.