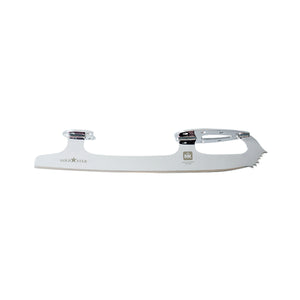 THE UNDISPUTED KING OF SPIN
The choice of numerous World and Olympic Champions, this superb blade epitomizes MK's craftsmanship. The MK Gold Star is side honed and tapered which provides more defined edges and increased angle for tighter turns. Due to the complexity of its secondary radius, the Gold Star has more of a heel lift than most freestyle blades which also aids in spin technique. If you're an advanced freestyle skater performing triple or quadruple jumps who are seeking a blade which will enhance spins, the Gold Star is our recommendation.
ORDERS WILL BE DELAYED ON SOME SIZES.