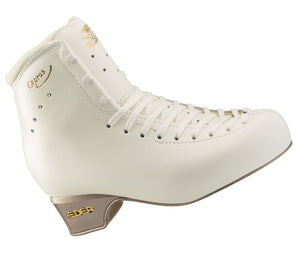 Edea Support Level: 70
Designed for double jumps, the Edea Chorus is made with Revolutionary Ultra Lightweight Materials which means that the Chorus is 25% to 45% lighter than comparable traditional "light" skating boots.  

The Chorus is features an ultra light stiff construction with a leather finish outside and perforated microfibre lining. 

This boot features:
Anatomically shaped memory foam padding
Back cuff padding
Torsionally rigid footbed for greater stability and control
Footbed and sole of boot will not absorb moisture
Handmade in Italy.